Teresa loved the style of her existing kitchen, so more than anything else this renovation was about the functionality of the layout and giving the space a 21st century makeover. I started this process by installing Smarter Timber Flooring engineered timber floorboards and painting the space Taubmans 'Intimate White'. A Velux automated skylight was also instated to flood the kitchen with natural light.
The original kitchen was a long and skinny and had three separate entrances, so I created zones within the larger space. I put the working triangle at one end of the kitchen, with close access to the 900mm Belling oven with Condari rangehood, Swedia double sink with Phoenix Tapware, AEG Australia dishwasher and Electrolux  fridge. The Kitchen Group (XXXX) installed the cabinetry for me.
The other end of the Freedom Kitchens kitchen is all bench space which is multifunctional and can be used for meal preparation or as a casual eating area. The Globe West stools have a wooden base and their look is very much in line with the simplistic elements of timber and white that are fundamental to French Provincial style. This 'zone' is right next to the pantry and connects directly onto the lounge.
The position of the kitchen in the centre of the house becomes the transitional space between the front formal rooms and the casual lounge/dining area, so the colours and style of the kitchen had to be the perfect blend of elegant and simple. The use of a monochromatic colour scheme instantly creates a sophisticated palette to work with and the large format Perini marble look tiles seals the elegant feel.
The new Freedoms Kitchens cabinetry have the 'shaker' style panel to the doors and the brushed chrome half circle pull handles eases the look into a more country style kitchen. The Freedom Kitchens benchtop has large granite flecks and leaving the bricks exposed above the Belling oven, gives the perfect blend of traditional and country with the luxury of modern living.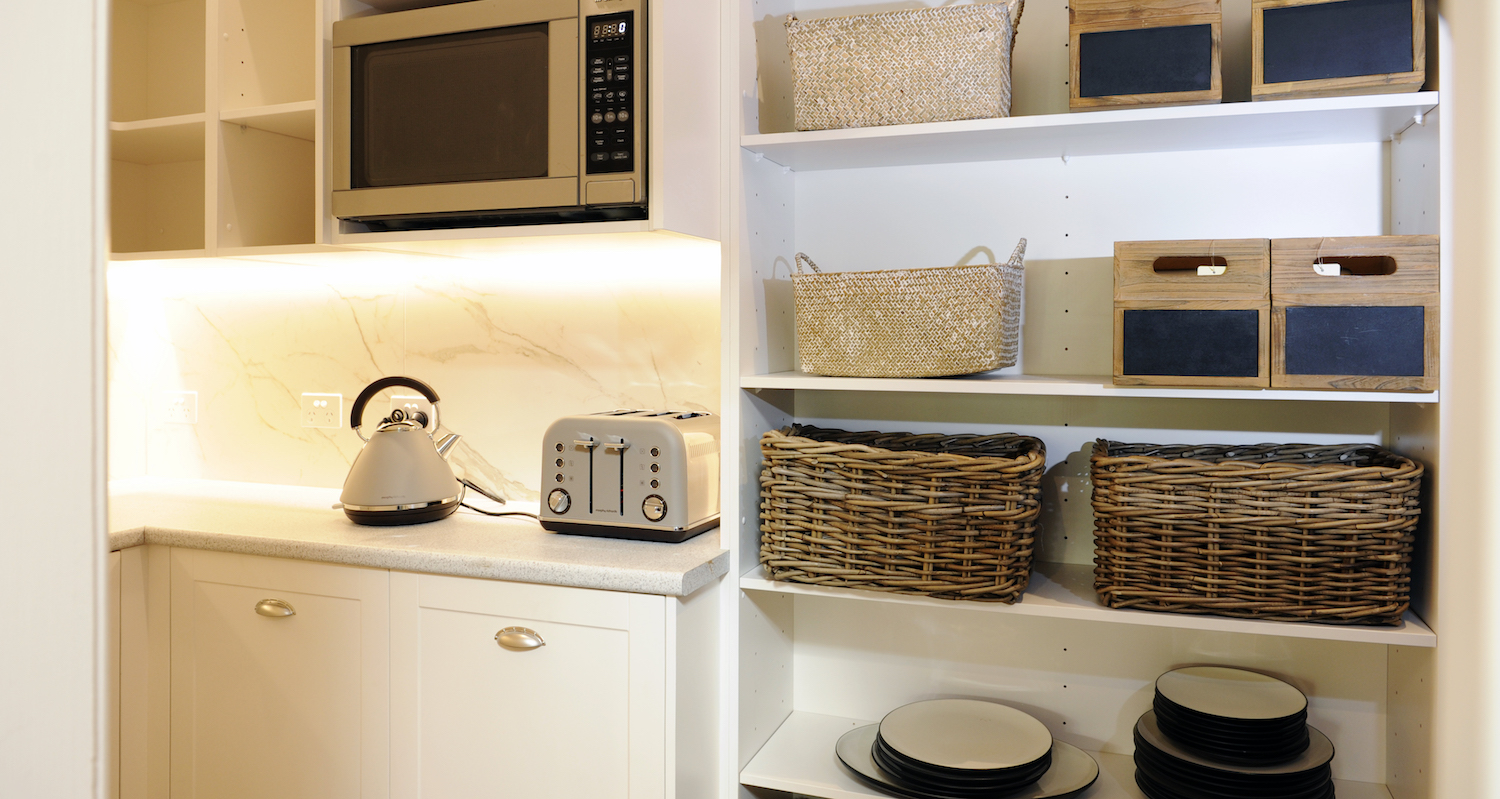 The kettle and toaster were found at Morphy Richards and graphite dinnerware at Noritake. I further infused French Provincial flavour into the kitchen with art from Urban Road and styling accessories from Provincial Home Living.
This kitchen took a large chunk of the budget and was worth every penny!
For a full list of this week's suppliers and extra content on this – and all episodes of Deadline Design – head to Lifestyle.
Find this week's indoor/outdoor suppliers on social media…
Belling
Facebook
Twitter @BellingAU
Instagram @ bellingau
Electrolux
Facebook
Instagram @electroluxau
Freedom Kitchens
Instagram @freedom_kitchens
Globewest
Facebook
Instagram @globewest
Morphy Richards
Facebook
Twitter @morphyrichau
Instagram @morphyrichardau
Noritake
Facebook
Twitter @NoritakeAus
Instagram @noritakeaus
Perini
Facebook
Twitter @perinitiles
Instagram @perinitiles
Phoenix Tapware
Facebook
Instagram @phoenixtapware
Provincial Home Living.com
Facebook
Twitter @ProvincialHome
Instagram @provnicialhomeliving
Smarter Timber Flooring
Facebook
Taubmans
Facebook
Instagram @taubmans
Urban Road
Facebook
Twitter @Urban_Road
Instagram @urbanroad_au
Images: Vanessa Hall, Lifestyle.