The contestants will have been breathing a sigh of relief this week after completing the last rooms inside their apartments. They still have to tackle their outdoor areas though and, with everyone running seriously low on cash, that made for some hotly contested judging this week.
Bianca and Carla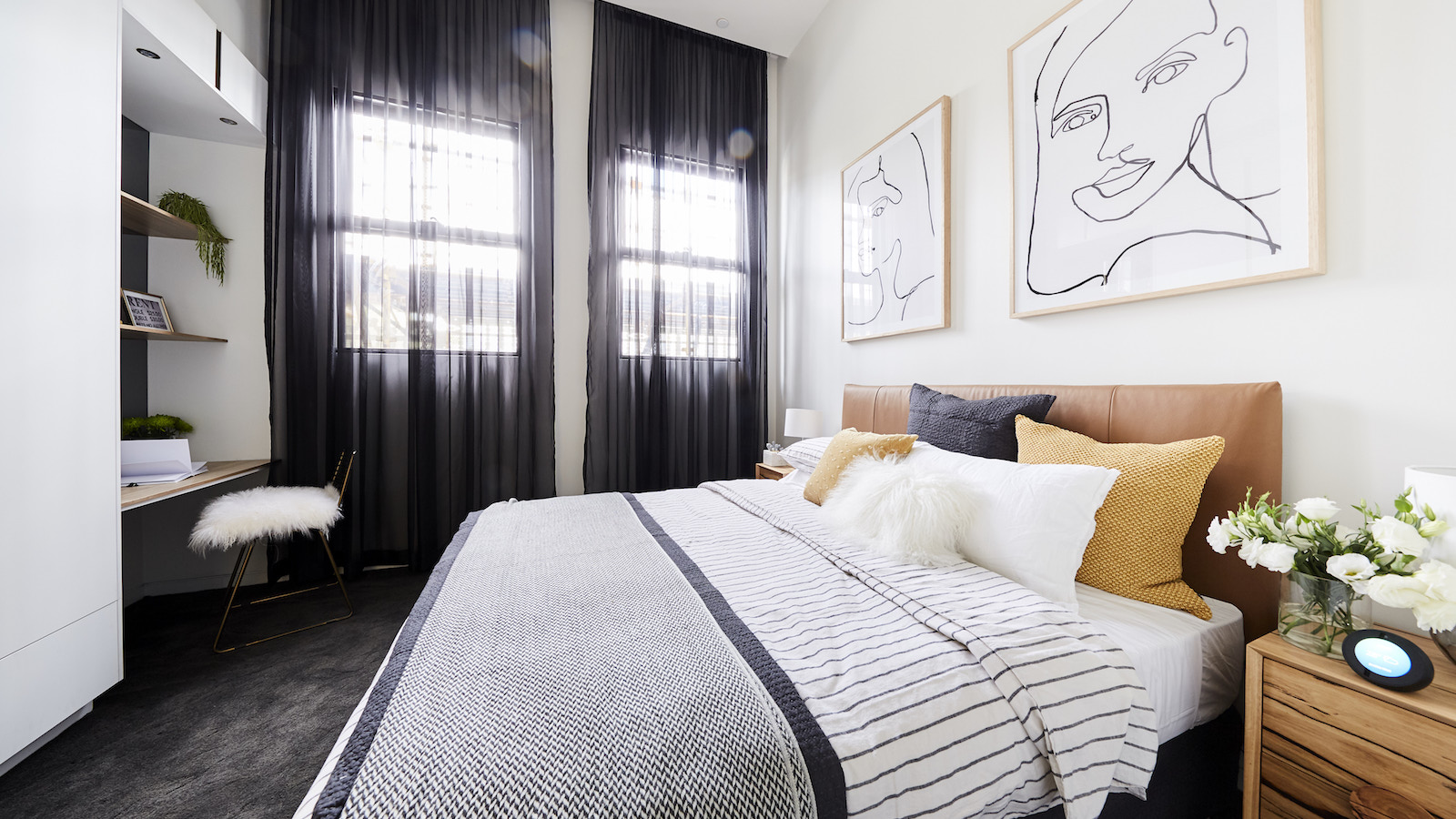 Carla had a last minute lapse in styling confidence ahead of the third bedroom reveal but she was being way too hard on herself. Bianca and Carla's third bedroom was light, luxurious and uplifting. The girls perfectly balanced texture and tone – a skill they've honed this season. From the clever matching artworks to the gorgeous timber-lined wardrobes, to the functionality of the study desk, their room was practical, intuitive, beautifully styled and perfectly finished. Their only downfall was the tiny lamps on the bedside tables, but the Alexa-controlled coloured down lighting – that provided warm light and cool light from the same light fitting – more than redeemed them.
Jess and Norm
Jess vowed to only use vouchers in the styling of their penthouse's third bedroom and, with the exception of some (utterly forgettable) $8 supermarket flowers, she achieved her goal. The result was a triumph of simple, yet luxurious, styling. We loved the tranquil (not 50 shades of) grey colour palette, and their choice of bedhead, mirror and bedside tables. If they hadn't left bedside lighting out of their design they would have had a good chance of pulling off their first room win this week. As it was, they presented a warm, welcoming third bedroom that could double as a master bedroom in their penthouse apartment.
Hayden and Sara
Hayden and Sara reached the bottom of the budget barrel this week, but luckily for them Sara's eye for a target catapulted them back into liquidity. Sarah set out to create a mini-master in their third bedroom. We loved their softly lit signature ceiling… the John Snow bearskin on the bed not so much! The orientation of their bed, and narrow cupboards, left the room feeling a tiny bit on the pokey side, and there's a datedness about their overall styling which makes me think they're missing their target 30-40 year old professional target market, and should be aiming for the mid-50s down-sizers instead.
Courtney and Hans
The first thing that struck us as we walked into Courtney and Hans' third bedroom was the vibrant colour palette. We also loved the concrete-look wardrobe doors, the timber textured wardrobe interior, the shoe rack (luxe for a guest bedroom) and floor-line wardrobe lighting. Their quirky choice of artworks is in synergy with the rest of their art and artefact choices throughout their apartment, but the restrictive size of their bedroom made it feel close and claustrophobic.
Kerry and Spence
As we've come to expect from Kerry and Spence, they revealed another well-planned, welcoming, tick-all-the-boxes space, this week. Their choice of colour palette was simple and inoffensive, but from a styling perspective, it was animal overload! I like woodland creatures, but this was bordering on safari park! Darren was very taken by the bedhead, and we all appreciated the way they integrated their air conditioning vent into wardrobe joinery, but the overall impression was slightly bland and I worry that they haven't created a room that will resonate with potential buyers looking for that high-end luxury apartment.