Spring may not yet have fully sprung (has the weatherman noticed it's still 14 degrees outside!!!) but it's certainly in the process of springing which means it's time to whip those outdoor living areas into shape and get set for some serious alfresco dining.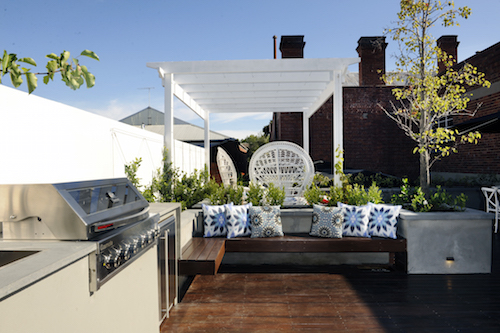 I recently gave my new rooftop terrace not so much a spring clean as a complete overhaul. My goal: To create an outdoor kitchen and dining area just as functional as the indoor kitchen at my Borough of Hawthorn studio. I literally want to be able to migrate all out dining and entertaining outdoors in the warmer months.
Alfresco dining is big in the outdoor world of entertaining but I wanted pure open air so the products I selected had to withstand the elements without a roofed pergola to protect it all year round.  A full Alfresco can be a big construction cost so I wanted to keep it simple.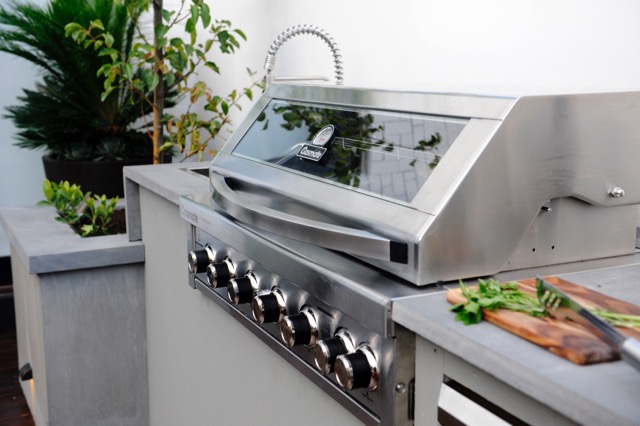 Taking centre stage is my new Gasmate Platinum II Range barbecue. It's made entirely from high-quality 304 stainless steel, making it entirely weatherproof so exposure to the elements isn't an issue  (but I would recommend a protective cover for those winter months it stays idle). The BBQ has a viewing window in the hood for roasting or high-heat grilling, satin enamel cast iron reversible plate and stainless steel grill, stainless steel burners and individual controls, a stainless steel flame tamer for controlled heat distribution and a ceramic rear burner for healthy rotisserie cooking.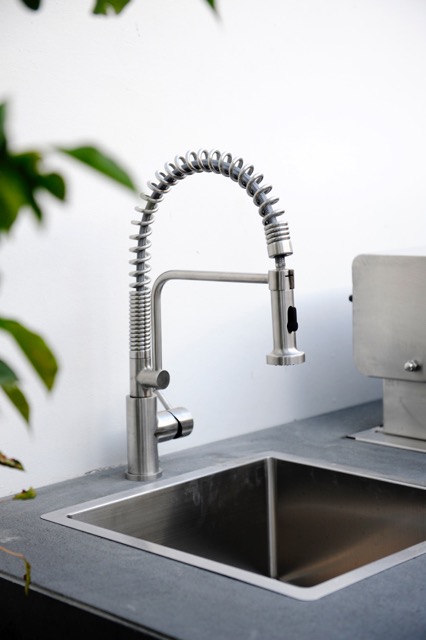 Complimenting the barbecue is another outdoor entertaining essential: a stainless steel sink complete with Swedia stainless steel tapware.  Not only is the outer stainless steel but all the internal components so it is completely weatherproof.  The detachable, commercial kitchen-style tap has the normal stream plus spray action, perfect for hosing down the work surfaces post-feast.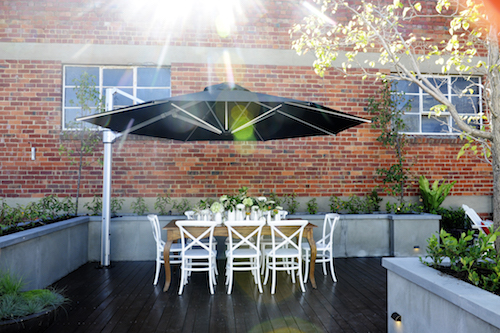 The finishing touch is my new Eclipse Cantilever Umbrella. Wind rated, water repellant and guaranteed not to fade for at least five years, it provides over-sized, flexible shade. It comes complete with a weatherproof cover that is easy to use – even for the vertically challenged among us!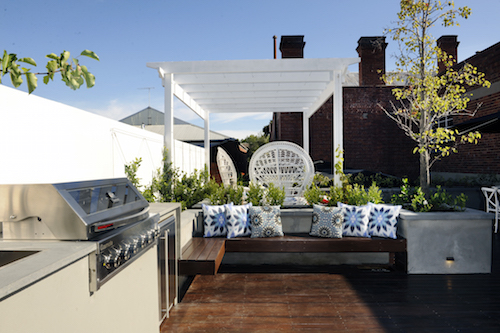 There are so many advantages to cooking outdoors, not least that eating outside seems to simplify food preparation and cut the amount of cleaning up you need to do afterwards and I was determined to make the most of those advantages to the max.
All the choices I made for our roof terrace were made with this simplified summer dining dream firmly in mind. Set your outdoor area up right and there's no reason why you can't move your entire kitchen operation outside in the warmer months.
For my tips of choosing cushions for your outdoor dining and entertaining areas read this article on my website, and there are some more tips for updating your outdoor areas here.