Uh oh, we've got trouble. If you missed tonight's reveal you'll see photos of Jason and Sarah's room are conspicuous by their absence, below. They've got one last chance or I think Scotty's going to give them their marching orders permanently! Elsewhere there were some hits and misses, but the other four couples all put 100 per cent heart and effort into their master bedrooms this week and, given the circumstances this week I think it's important to acknowledge how much our contestants sacrifice to be part of The Block, and how much work they put in, even when things don't always go their way.
Jason & Sarah
Not the ideal start to this week's Master Suite reveal. Jason and Sarah's building site (it would be too generous to call it a room) reveal had us reeling – and not in a good way! What made them think it was ok to down tools and not even try? No magnitude of budget issues excuses their total lack of effort. So disrespectful to us, to Scotty, to their tradies, to their fellow contestants and to contestants of the past who worked their guts out to get the best result possible under exactly the same challenges. They've got a major ultimatum dangling over their heads now. Only time will tell if they can get back on track in time for what will be a double room reveal for them next Sunday night!
Hannah & Clint
The relief when we opened Hannah and Clint's double doors to reveal their pretty in pink – finished – master bedroom was palpable among our little judging panel. I literally exhaled! We saw some good choices and some bad choices from Hannah and Clint this week across their three completed rooms. I loved the rose print on the wall, and the bed and bedhead, but the cushions were underdone – you need at least three Euros to live up to the scale of that king sized bed. I was also disappointed they didn't opt for blinds or curtains that went all the way up to the ceiling.
Their walk in wardrobe was a winner from a storage perspective with a great balance between hanging and drawer space, but rushed paintwork let them down.
They made some great choices in the ensuite with the vanity, basins, mirrors, shower all getting a big tick, but their tapware lacked luxe. Hannah and Clint need to take a good look at the cohesiveness of their house in the coming weeks. The master bedroom went well with the formal sitting room, but was not so simpatico with last week's lounge room.
Ronnie & Georgia
If anyone on this season of The Block understands luxury it's Ronnie and Georgia and they sure delivered it this week with a boutique hotel-style bedroom that could be their strongest room reveal so far. Another day, another gorgeous colour palette from this couple and another stunning artwork by Steve Cross. The room was cleverly laid out and the secret TV was a real winner. Some misses this week too courtesy of the lack of power points beside the bed and the lack of window treatment for the triangular windows.
The marble-topped dressing table was a superb choice in the walk-in and getting a full-sized bath, double shower and double vanity into the ensuite was impressive.
The smart toilet was…well…smart, but I didn't love the lighting arrangement and can't help thinking the eventual owners are going to find themselves 'bathed' in darkness in that shower. Overall though, Ronnie and Georgia gave us a tour de force in simple, harmonious, understated luxury this week.
Sticks & Wombat
Sticks and Wombat gave us an extremely well-planned, and almost perfectly painted master bedroom but their styling left a bit to be desired this week. I liked the blackbutt bedhead (although it was on the casual side for a master bedroom) but there were too many other timbers going on in the room what with the oak sofa legs and walnut table.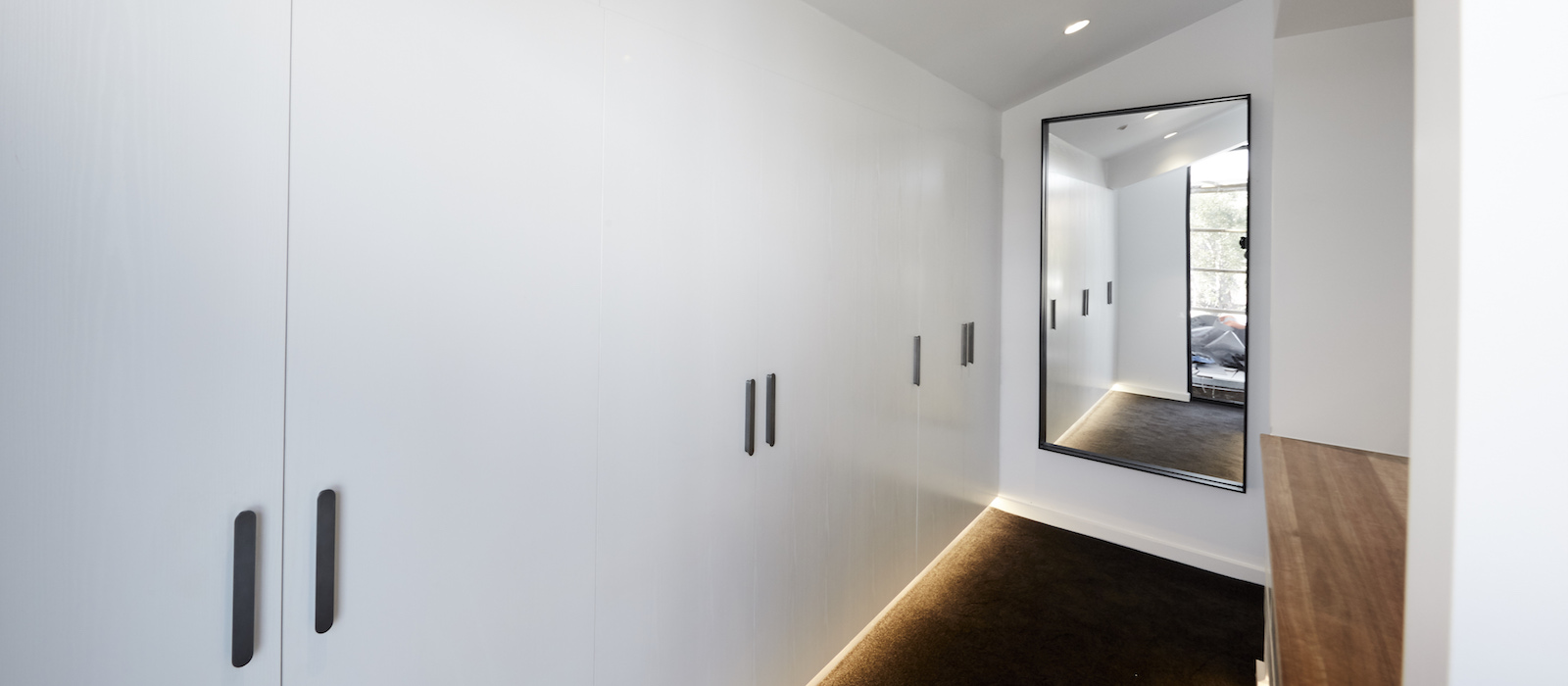 Where the boys really won our hearts was with their cavernous walk-in wardrobe. Gorgeous laminate. Magic door handles. The luxury of simplicity and the best joinery we saw all day.
The boys' ensuite was a knock out as well. Face-level storage? Stunning tapware? Powerpoints in all the right places? Functional lighting? All tickety-bo! It was clear they struggled a bit with time this week in some areas, but Sticks and Wombat are listening to our feedback each week and it's really starting to show. And, considering Sticks had to leave for the birth of his child (now that is one excuse that flies with the judges), the boys could have had a winning room if both had been there to complete the work this week.
Josh & Elyse
Josh and Elyse delivered an absolutely stunning – beautifully styled if not terribly private – master bedroom this week. The chandelier in the stairwell was a divine introduction to the room and the bed head, block-out curtains, armchairs, window seat and carpets were all winners in my book.
Onto the walk-in wardrobe and the Shaker profile on doors worked really well again for them this week, as did the bells and whistles inside the wardrobes. I love that Elyse displays her shoes just like I do!
Then the cherry on top: the ensuite. Compact, cozy, but packed with every amenity you could wish for in a bathroom… and how about those delicious tiles in the shower? They definitely take the prize for tiles of the day. Josh and Elyse topped their double vanity, double shower and bathtub with great tapware, marble and styling for a high-quality finish that fit the brief perfectly. As we progress through this season we're seeing a professional-standard level of cohesion from room to room in Josh and Elyse's home that could well make them winners with the buyers on auction day.
What did you think of this week's master bedroom reveals? Tweet me @ShaynnaBlaze or comment on one of my posts on Facebook or @ShaynnaBlaze on Instagram.